How do increasing interest rates impact borrowing capacity?
The cash rate has been steadily increasing and at the time of writing was sitting at 3.85%, just shy of the 4% predicted by economists at the big four banks earlier in the year. 
The cash rate impacts the interest rate lenders offer on variable-rate home loans, which in turn impacts how much you can borrow. 
If the cash rate continues to grow, and the lenders pass on the increase to borrowers, the total amount a borrower can access will decrease.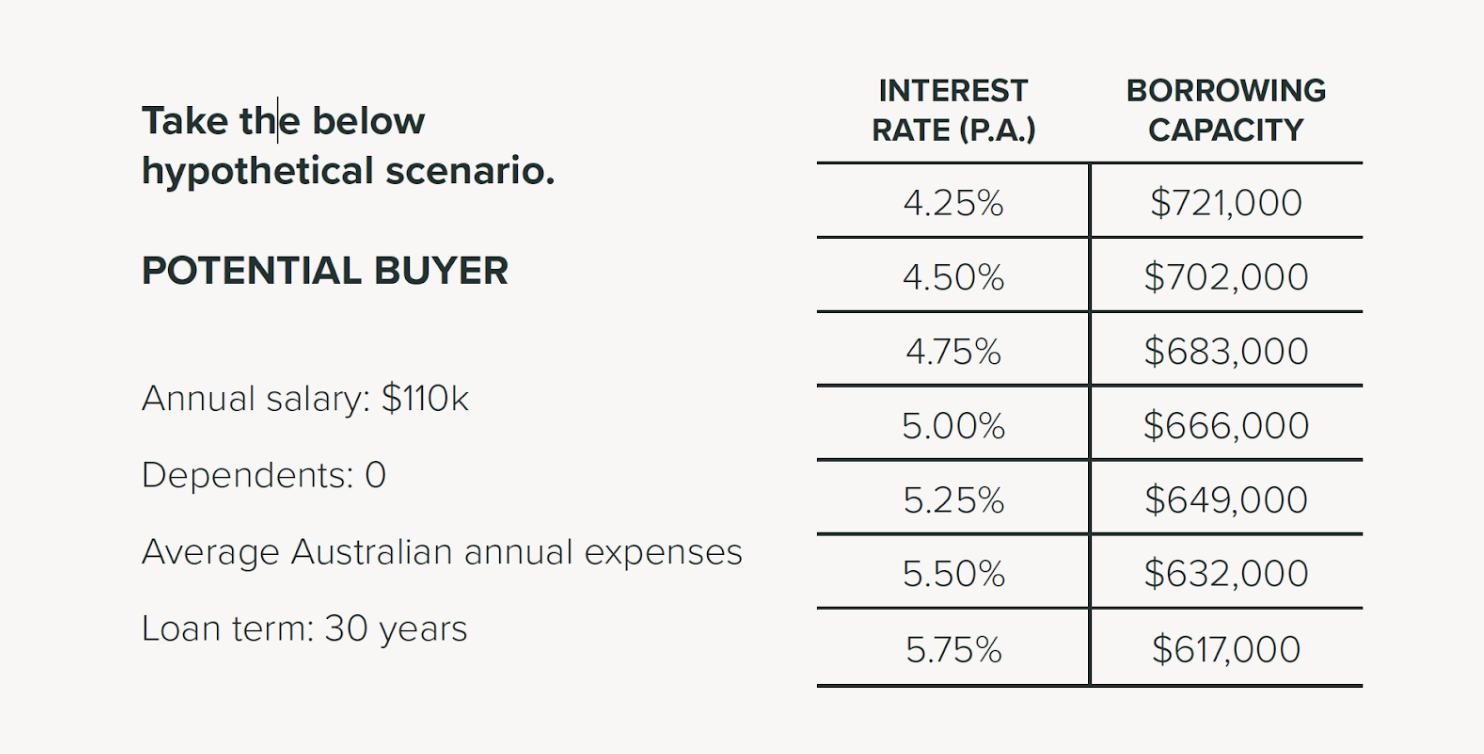 In the example above, an increase in interest rate by just 0.25 percentage points from 4.25%p.a. to 4.50%p.a. would decrease borrowing capacity by $19,000. A change of one percentage point from 4.25%p.a. to 5.25%p.a. would decrease borrowing capacity by $72,000.
Not all banks lend the same
Additionally, every bank will assess your borrowing capacity differently which means some banks will lend more than others, and it can be anywhere from a few hundred dollars to tens of thousands of dollars difference, you just need to know which bank!
While you will find plenty of online home loan calculators (we've got them too) that will provide you with an indication of your borrowing power, they are only a basic guide. A calculator won't tell you which bank will lend more, how to find other savings or which bank will more openly discount their rate. That's what we do for you!
If you are looking for your new home or investment property it pays to know your upper price limit, also known as your borrowing capacity or borrowing power. While you may not want to spend that amount you can always borrow less.
Many borrowers are surprised by the difference in their borrowing capacity from one lender to another – it can be tens of thousands of dollars and is ultimately the difference between moving into the home of your dreams or spending more precious weekends queuing up at open homes.
Your Green Team finance broker will show you how much you can borrow from a range of banks and lenders in just one consultation, so you can set yourself a comfortable purchase budget. We will also provide you with an overview of your weekly, fortnightly, or monthly repayments based on loan type and amount.
Better still, we can arrange a formal home loan pre-approval on your behalf which puts you in a position of power when it comes to negotiating on a contract or bidding at auction.
THE FINEPRINT: The information provided on this site is on the understanding that it is for illustrative and discussion purposes only. While all care and attention are taken in its preparation any party seeking to rely on its content or otherwise should make their own enquiries and research to ensure its relevance to your specific personal and business requirements and circumstances.
Green Finance Group Pty Ltd ACN 145 035 221 is authorised under LMG Broker Services Pty Ltd ACN 632 405 504 Australian Credit Licence 517192.